Wedding Guest Dresses Trends for You
If you are couples who want to have a memorable wedding under the refreshing blue sky, then a garden wedding will make your dream come true. The garden wedding is an intimate wdding, it is full of openness and warm atmosphere, close to wedding guests.

Wedding dresses is one of ways to help brides to be the spotlight of the party. However, wedding dresses with long trains and wedding shoes with high heels can make it difficult for the bride to move even in the most difficult situations. Therefore, we would like to recommend wedding dresses that are cute and easy to move around for brides who want to enjoy the garden wedding.

Perfect wedding dresses for garden wedding is easy to move, and the hem of the skirt is the key, let's get started ♡ Introducing wedding dresses for you as reference:

1) Fishtail wedding dress
It also called high low dress, it is a design with a short front skirt and a long back skirt. Wedding dresses with this design is recommended for garden wedding, as it is easy to move around outdoor. Fishtail wedding dresses also has the effect of making your legs look longer and slender.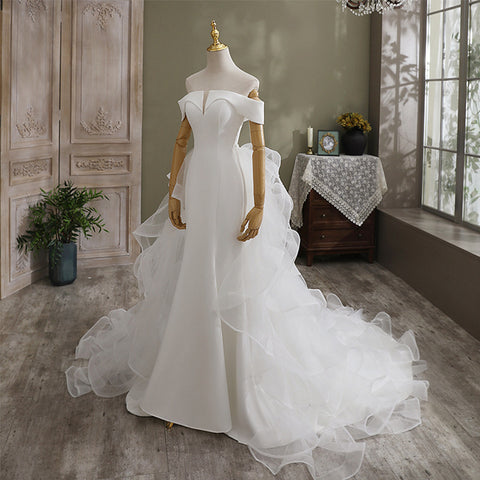 Order: off shoulder fishtail wedding dresses
Fishtail cinched waist design, protrude your curvaceous figure, you look elegant and charmin; Multi-layer net yarn and mopping skirt, elegant and dreamy. The romantic vibe blooms follow your every steps.
Order French Style High Low Wedding Gowns 
This vintage style wedding gown for women is made in tea length from and sweep train back. It features bra built-in, mandarin collar neckline together with puff sleeves, big bowknot back with lace up back, cinched slender high waist,  all these details make it is perfect for a romantic bride.
2). Mini length or mimore length wedding dress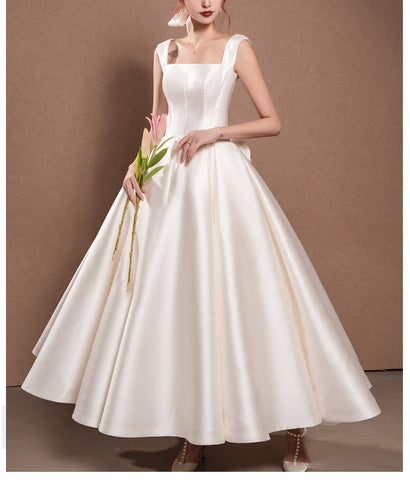 Order: Vintage Mid-length Wedding Gowns
This simple but elegant wedding dress for women is made for semi-formal and causal wedding party. It features bra built-in, big square neckline together with wide straps, big bowknot back with zipper closure, cinched slender high waist, teal-length design make it is perfect for short girls.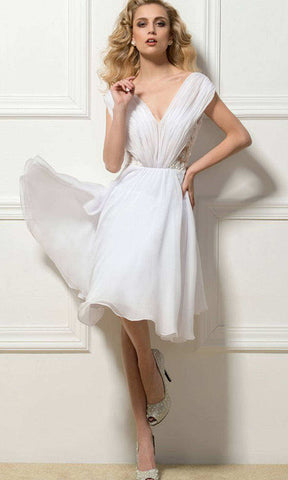 Order: Short Causal Wedding Dresses
 This short wedding dress features V shape neckline front and deep v shape back, perfect curve of top body; white floral lace splice chiffon together, slender waist in vision; No matter you are girls with broad shoulder, or you are apple body shape girls, this white  dresses is your choice.