Wedding Dress and Accessory Trends Every 2023 Bride-to-Be Needs to Know
Ready to start your fashion bridal shopping? Read this blog post before you make any decision, and get style, price reference from our website: Promboutiqueonline.


We know every era bridal fashion has its own iconic, but the specifics don't change too quickly from year to year. This makes sense: You wear a wedding dress just once—so the rules of fast fashion (which seem to change on a whim) don't necessarily apply.
A Return to Timeless Cuts
While one-shoulder silhouettes dominated Bridal Fashion Week runways in 2022, many of brides have returned to what she calls a "true wedding look"—think classic ball gowns, A-lines, and trumpets. The ball gown is still popular, and the trumpet style is also always popular for brides who don't want a lot of volume or fear it overwhelms them—it's a classic shape that looks good on a ton of body types., like this lace trumpet wedding dresses with sheer V-neck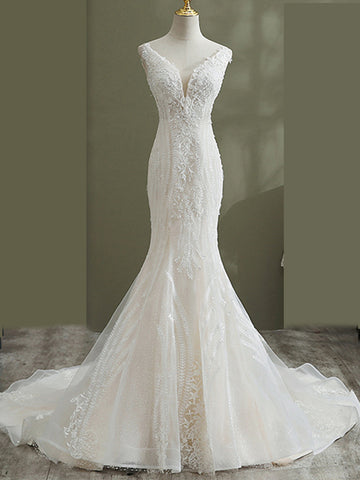 Trending Necklines
Strapless gowns, perennially in favor for how they flatter every body type, offer a versatility that's increasingly in-demand, as brides customize them with straps, jackets, or capes; open necklines are also charming shoppers. Off-the-shoulder necklines, leaving the chest and shoulder area open, is something people love right now. It has the added bonus of providing arm coverage, which everybody wants. Check this off the shoulder layed wedding dresses with train. It is on sale now, you can get it at price $205, you save 40% off.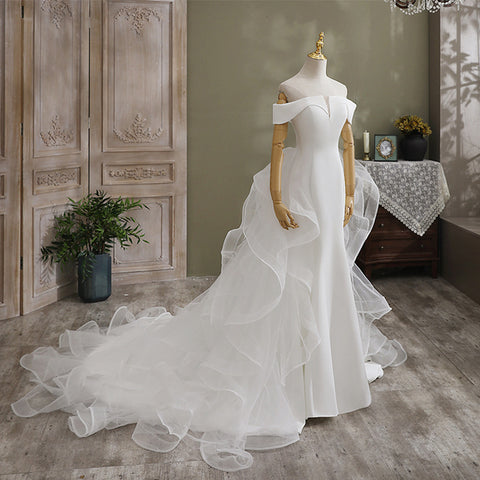 Juliet Sleeves
Sleeves, in general are hot, and have been for a couple of years, pointing to the popularity of off-the-shoulder balloon sleeves as one example. But now the iconic '90s Juliet sleeve also be seen in resurgence, which puffs at the shoulder and tightens through the arm. It comes back in a different but more modern way—jackets, overlays, detachable versions, tulle—it really adds an element of romance and a different aesthetic. This royal satin bridal gowns with Juliet sleeves decorated with elegant pearl buttons, puff skirt with draped side detail giving the skirt a chic volume. This is the dress in which you will be a queen, and it is certainly is very exclusive and one of a kind for made to order service.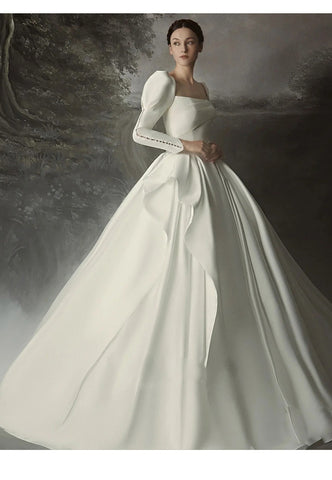 '90s Bridal Style
This year, other vintage fashions from the same decade might become more in-demand, too. The '90s are back in ready-to-wear and they're definitely making their way back into wedding fashion, as well. We're going to continue to see a lot of bias-cut slip dresses and simple ball gowns with a less-is-more approach.
More Color and Floral Patterns
While white, cream, and ivory shades still have most of the bridal market cornered, brides who are drawn to bolder colors and patterns have more choices than ever before. Blush and champagne used to be the go-to colors for brides looking to branch out beyond a white wedding dress. This year,we'll see that expand to shades of blue, lavender, and green. Not limited to solids, printed gowns with colorful floral motifs will become more mainstream, too. It's a fresh option that brides are having fun with. We are seeing small floral details and 3D embellishments a lot, and bigger, bolder prints—it runs the gamut. Take inspiration from the climate and aesthetic of your venue to choose a specific floral pattern appropriate for your wedding date: Florals tend to look more spring-like, so it isn't as common to find wintry florals—but they do exist.
Glam Slip-On Gloves and Capes
Instead of princess-inspired tiaras or sparkling hairpieces, choose accessories that add a more sophisticated touch to your outfit. Gloves were definitely the 'it' accessory of 2022 and they won't go anywhere in 2023. Whether a bride wears them down the aisle or adds them as a fun accessory for the reception, slipping them on is a great way to add an au courant twist to your bridal look—without committing to a trend-forward wedding dress. BTW, it will save you lots of money.

An elegant, unexpected cape, which has the same effect: it's a nice way for brides to have a little extra drama—and a little coverage, so if they wanted that for the ceremony, but not all night, they can take it off. For example this gorgeous gowns with removable tassle long cape,and tulle tassel details cover on the skirt, with this red carpet-inspired dress, it will be not diffcult to be among the best dressed in the dance party.
Take photos with the cape on for grecian goddess vibe, and take the cape off when dancing for move free, and enjoyy the dance.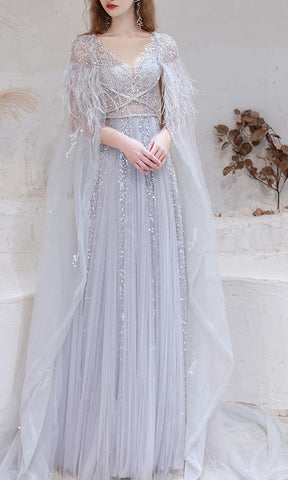 Unexpected Shoes
Thinking beyond the classic jeweled heel or sparkling stiletto. People are getting really fun with their shoes, colored shoes have been popular and still are and sneakers 100 percent are mainstream now—and we do cowboy boots when it makes sense.

Whether you choose fancy shoes for your entire day or opt to change after the ceremony, investing in a shoe you love means you can also wear it after your wedding day. (One note: If you choose to change shoes during your reception, make sure the heel height doesn't change the hemline of your dress; look for platform or wedge sneakers to keep the overall look the same.)
Wedding Wardrobes
Brides are no longer only shopping for a single wedding dress, they choose a second dress for their reception that is much easier to move around in and dance in. Though past years saw most newlyweds opting for cocktail-length dresses, the trend now is toward long gowns for the party. Brides want to stay more in the dress code, and if guests are in gowns, they want to stay in something long.
It's increasingly common for brides to request a cohesive wardrobe that covers all of their related events. From welcome parties and rehearsal dinners to the wedding day itself, the fashion is becoming an integral part of the celebration and an opportunity for a bride to show off various aspects of her personal style and play up each event's design through her clothing.
For the ceremony, embrace something classic; at the reception, opt for a sexier number. And for the after-party, try something short and fun—even feathers, which are very on trend!