Top 5 Things To Consider Before Shopping For Perfect Wedding Dress
When it comes to start shopping for perfect wedding dresses, there are so many choice to make from the dress style to the fabric to even the color. It is so easy to get caught up in all of the options, so ordering wedding dress can be an exciting but daunting task as well as a bit overwhelming. Making planning and doing research can help make the process a lot less stressful.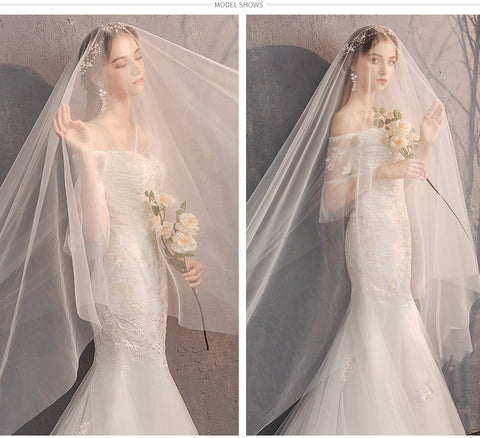 Before you start your search for the perfect wedding dresses for the biggest days of your life, it's important to stay true to your style and taste, here are a fer things to keep in mind:

1. Set a budget before you start your search
It's very important to set a budget first to identify how much you can spend on your dress and stick to it. The price of wedding dresses various, it can be very expensive, set a budget first will help narrow down your options, and prevent you from falling in love with the dress that's out of your price range.
Besides the price of the wedding dres, you need take the cost of alterations into consideration when setting your budget. Most of us are not built in standard size, like models, so if it is not custom made wedding dress, it maybe need some adjustments to ensure the perfect fit.
How much budget should you set on your wedding dress? Sometimes it's really a question, a good rule of thumb is to set aside 10% of your total wedding budget for your wedding dresses. In this way you will get a good starting point to work with your wedding dress budget.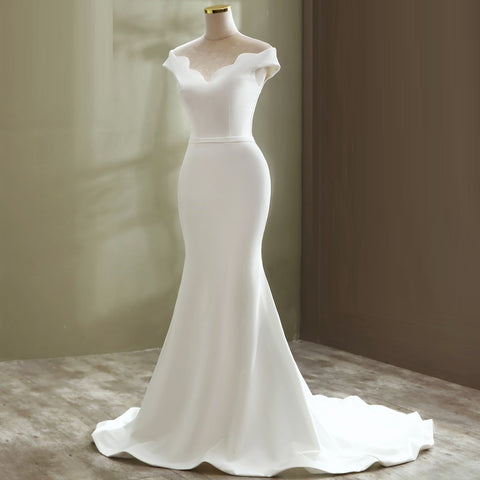 2. Set up a deadline to make sure you have plenty of time to find the right dress and make any necessary alterations
It's good idea to start shopping for your dress at least six months before your wedding date, and setting up a timeline and stick to it will help you prevent any last-minutes stress or rush decisions. it make sure you have enough time to find the perfect dress and get it altered if needed.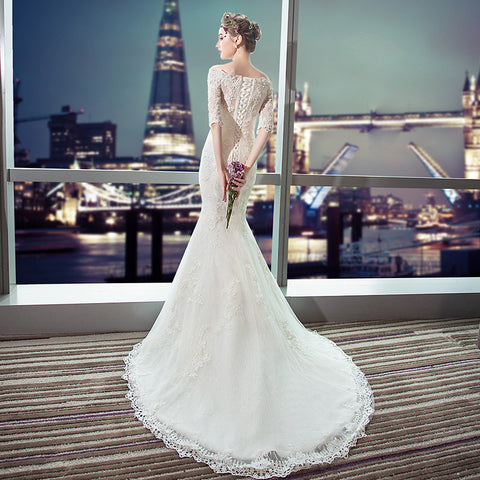 3. Your wedding dress should be appropriate for the location and season of your wedding.
Consider an appropriate location and season of the wedding, for exampel if you're having a formal wedding in a church, you'll probably want to go with a more traditional dress. However, if you're having a backyard beach ceremony, you might opt for something more relaxed, like a flowy sundress, even short wedding dresses.

It's also important to consider the season of year when you're getting married, like long-sleeved wedding gowns might not be the best choice for a summer wedding, whereas a short wedding dress would be more appropriate if it is a semi-formal party.


4. Try the dress on if you can to make sure the style also looks good on you same as on the hanger
Every dress will look different for different person due to different skin tone, body shape, and personality. So it's important to see how the dress fits your body type. If you can try it on to see how it looks and feels on you.
If you order the dress online, try to order the dress worn by models in same skin tone, body shape as you. Don't just buy the dress because it looks good on the hanger. Get or find a second opinion from someone you trust. Ask your mom, sister, or best friend for their honest opinion. They might see something you don't or have a different perspective than you hadn't considered. It's always helpful to get input from other people before making such a big decision.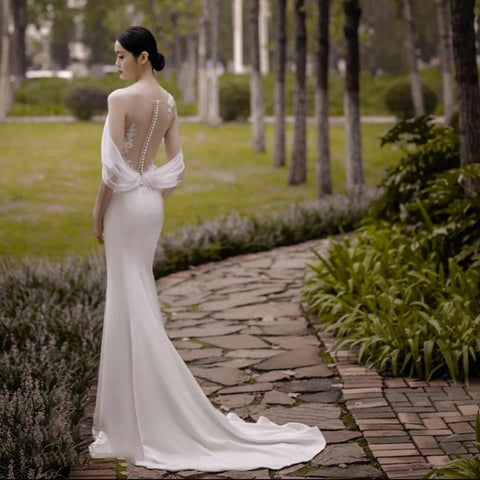 5. Most Importantly, Make Yourself Happy and feels true to your style
When shopping for a wedding dress for your wedding dress, make sure you feel like the best version of yourself, you should be comfotable and confident in the drss you choose. After all it's your big day.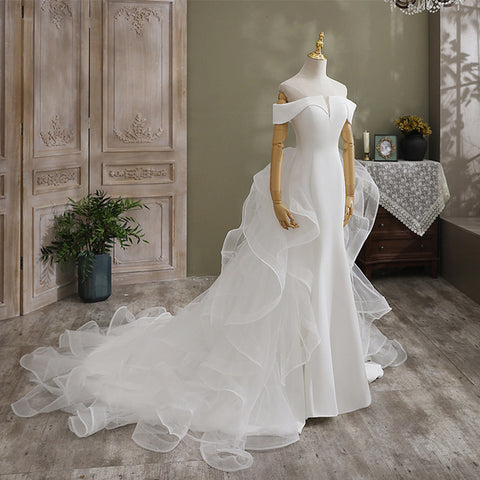 With these tips in mind, you're sure to find the perfect dress for your big day, and make the process of shopping a lot less stressful, a lot more enjoyable. Just make sure you are happy with your choice and feel like the best version of yourself.