Takeaway These Top Trends From The Bridal Week Runway
World-renowned brands showcased their top gowns, their freshest bridal designs on runway, and we bringing them to the forefront to view some of the latest trends.

Trend 1 – Daring Necklines
Variety of deep V necklines was one of the biggest trends from this year's runway.

Fresh, modern, and making a bold statement, the V-necked bridal gown wowed the crowd at Bridal Week Harrogate as plenty of dresses took the plunge.
Dando London's slinky silhouette added a spark of sexy, featuring cut-out detailing to cinch the waist and illusion mesh with scattered embroidery.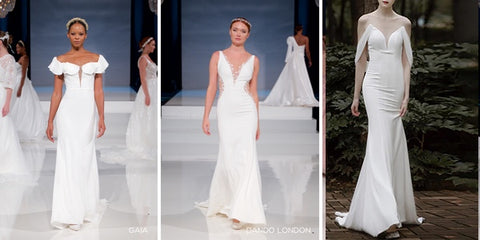 Click to order: Mermaid Satin Wedding Dresses With Sheer Plunging Neckline

Trend 2 – Sheer Drama
Sheer detailing was also one of the most ubiquitous trends this season.
Transparent detailing is the way to go adding high-drama, putting a seductive spin on an otherwise traditional silhouette, or adding an ethereal effect to a sweet and romantic piece, transparent detailing was the way to go.
The Rachel Allan dress held frothy sheer lace layers to the bottom of their mermaid gown, finished with a stunning transparent bell sleeves, making for a regal and striking look.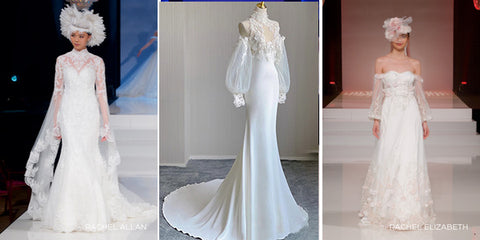 Click to order: Wedding Dresses with Sheer Puff Sleeves

Trend 3 – Vintage Charm
A touch of old-school cool was also spotted on this year's catwalk.
The ruffled bustles, full embroidery, and fringing on display at this year's runway caught everyone's attention and made a bold statement.
Drawing inspiration from vintage styles, we have refreshed some of the most beloved dress features from the past.

True Bride has this bridal gown that's totally Gatsby-inspired.
It's got a blouson-style bodice with sheer sleeves that are delicately adorned with hand-beaded pearls and crystals.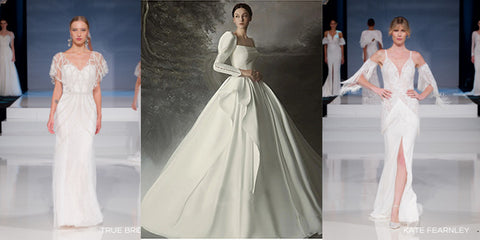 Click to order: vintage charm princess wedding gowns

Trend 4 – Satin Reverie
The silkiest satin gowns bringing an ultra-luxurious feel to the runway, it's gonna be huge this season, for sure!
The pure elegance and sophistication exuded by traditional satin bridal gowns are impossible to ignore.
rue Bride presented a stunning off-white satin gown, featuring a straight neckline and full skirt.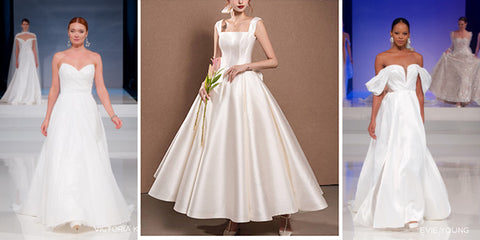 Click to order: Straight Neckline Satin Reverie Wedding Gowns

Trend 5 – Detachables
We have observed a significant resurgence of the detachable sleeve/cape/skirt trend on the runway this year.
Designers are now offering bridal gowns with detachable pieces, eliminating the need for a second dress and allowing brides to seamlessly transition from the altar to the afterparty with just a tug of the overskirt.
The Perfect Bridal Collection by Kay Heeley utilized a stunning illusion cape adorned with botanical embroidery to accentuate the deep neckline of their gown.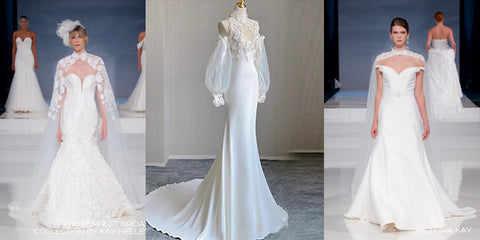 Trend 6 – Edgy Alternatives
We also observed a contemporary and daring interpretation of the conventional wedding attire, featuring mini-dresses, bridal suits, and striking bursts of color.
Rachel Allan made an especially bold statement on this year's runway, opting for a luxurious black wedding dress with illusion lace sleeves and full skirt.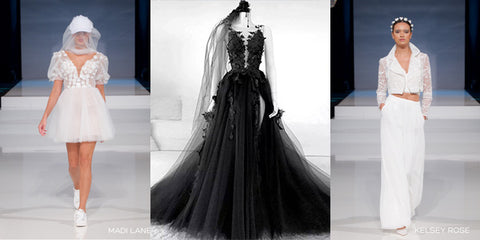 Click to order: Edgy Alternatives Black Wedding Dresses