How to Handle Second-Guessing Your Wedding Gown Purchase?
What to do if you experience "wedding dress regret"? Brides feel a lot of pressure to make sure they've chosen the absolute perfect wedding dress. Unfortunately, After "Say Yes to the Dress" a lot of brides struggle with "wedding dress regret": fretting that they have made the wrong choice of bridal gown.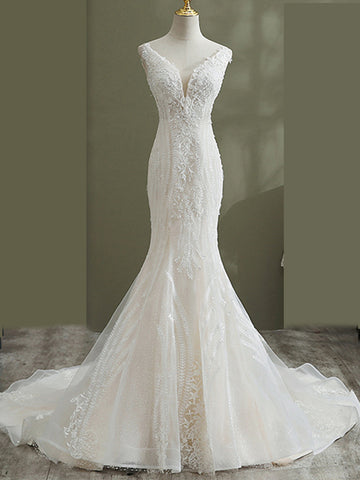 TO BUY: Sheer V-neck Long Floral Lace Mermaid Wedding Dresses
Wedding dress regret come in many different patterns. It often occurs when brides let their shopping entourage over-influence the decision for which wedding dress to purchase; Or they rushed into the choice of wedding dress, whether due to a great sale or buying the first dress that looked good. And purchase the wedding gown months before the wedding also leads to plenty of time to second-guess your choice, due to style changes or even a new wedding date or venue.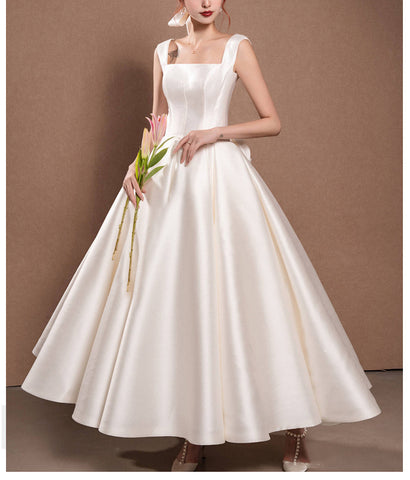 TO BUY: Chic Vintage Square Neckline Satin Wedding Dresses
It's best to avoid even having to think about other wedding gowns if possible. Of course, there are plenty of gowns that will look great on you, but it's important to commit to the gown you loved so much. If you already have a dress you love, we suggested not looking over pictures of the latest bridal fashions and designer wedding dresse. There are hundreds upon hundreds of beautiful dresses, but not every bridal wear looks great on everybody type. If you look and feel great in the wedding dress you bought, feel comfortable in that decision.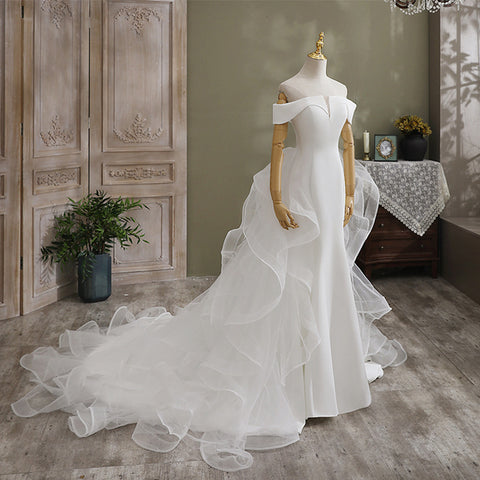 TO BUY: Off The Shoulder Mermaid Wedding Dresses with Layered Train
But what if the regret has fully set in? If you are saying to yourself, "I hate my wedding dress... What do I do?" luckily for you, we have tips for brides experiencing that phase of dress regretas well:

If you feel dress regrets before you get it, just cancel your order right away while you can likely get your deposit back. For you can always order it again if your dress regrets continue and you change your mind! Make sure to look over the return policies before placing order.
Or if you're prone to fashion regret, don't buy a final-sale item if there's even a slight chance that you won't love the gown weeks or months later.
Sometimes your wedding dress regret just be separation anxiety. If you're experiencing the feeling of dress regret with the time it takes for the wedding dress to come in from the saler, and the time for alternation, remember what you loved about the gown when you tried it on the first few times, there was a reason you said "yes" to that dress.
Do not continue to shop for bridal gowns once you've found your wedding dress, continuing to shop will just make your life more stressful.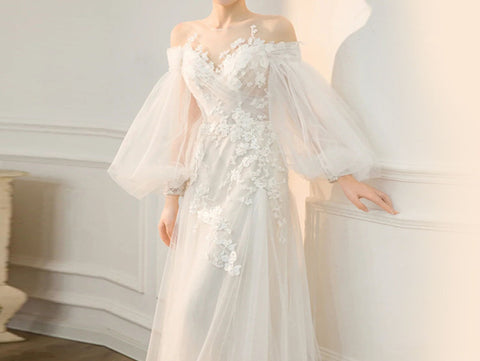 TO BUY: Fairy Cold Shoulder A-line Appliqued Tulle Wedding Dresses
What to Do If Your Wedding Dress Has Already Come In
If you already got the dress, give yourself some time before deciding to buy another one. You may just need a second opinion to help you feel more confident in your decision.
Sometimes it's nice to have a confidant who knows your fashion tendencies, they may be able to help you make an informed decision – and not keep a gown to avoid an inconvenience and then later lead to you saying, "I hated my wedding dress!"
And oftentimes there are some helpful accessories that can help your dress feeel like the perfect one. For example, add an embellished straps or sleeves to your strapless wedding gowns will change the dress you're beginning to regret to one you can't wait to wear! We also encourage brides to experiment with different veils and jewelry, try a belt or sash, remove some hoops to make a ball gown less voluminous, or add a petticoat to make an A-line dress more princess-like. There are so many options to make your dress your own – so don't give up just yet!

But once you find yourself can't put up with the wedding dress, then it may be worth it to try a second dress. Listen to yourself, consult with your wedding planner. He or she has likely had other brides who have experienced the same thing and can offer wisdom on the subject!
If your deposit cannot be refunded, sometimes you may be able to use the deposit for a different gown at the same bridal salon. Be direct and ask nicely – you never know! If not, be kind to the bridal salon and accept defeat on this particular purchase.

While you may not get all of your money back, selling your first choice will help fund a new one as well as provide another bride with a dream dress she might not have been able to afford! While it's not the perfect option you may have imagined, it can be the best of both worlds if you really feel strongly about purchasing a new wedding dress!