How to Dress Mother of the Groom?
Mothers have every right to look amazing on their beloved son or daughter's big day.
So even if you're going to wear that outfit only for once, you mustn't lower your shopping budget.  Compared to your other fashion items, the wedding mother's dress should appear as timeless classics.
What's important is that your outfit should make you look and feel special among your guests.
With a few tricks you can stand out as the mother of a newlywed:

Avoid the color of the bride's outfit
You must look your age and yet seem elegant on that occasion.
don't want anyone to consider you as one of bridesmaids, you must also keep an eye on the color of the bridesmaid dresses.
Discuss the color you've chosen with the bride or groom in advance.
You'll find the right solution while checking the legit website that create all the mother of the groom dresses with free custom made service.
2PCS Shawl Sheath Short Mother of the Bride Dresses

Don't show too much skin
Avoid showing off your cleavage unnecessarily, you can't looks sexier than brides.
You may look perfect in your Tea LengthMother of the Bride Dresses.


Also Don't look too much fashionable
Try out things that match the current times and still manage to look timeless, for you're bound to cherish the memories of your daughter's wedding for years.
Go for options with clean lines.
Order: Elegant Chiffon Mother of the Bride Dressy Outfits 3PCS

Don't select the flashy color tones
Choose a few subtle and elegant shades.
Keep your options in multiple colors if you're inclined towards colorful dresses.
Keep your options out of yellow, pink, or red if you're of the sober kind.
Purple is perfect choice of a summer wedding.
Wisteria Purple Bedazzled Mermaid Mother of The Bride Dresses

Avoid being in black entirely
It might seem like mourning.
You can look gorgeous when you put on a different color with black. For instance grey and black as they team up well to deliver that chic look with your jacket and a draping outfit.
A few colorful outfits can add to your glam quotient.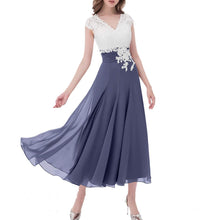 Color Block Lace and Chiffon Appliqued Mother of The Bride Dresses

Pick fabric worth good quality
You must ensure that the material of your choice is useful in supporting cold or warm atmosphere as per the climate of the wedding day.