How to Choose Neckline of Wedding Dresses?
The neckline of affordable wedding dresses online is an important element of the dress. Changing the angle or amount of coverage can drastically alter the appeal of the gown. Keep an open mind because many brides often discover a neckline that they never considered before that ends up suiting her face and her frame perfectly. This detail should be chosen to perfectly complement the bottom of the gown to create a seamless silhouette. It's also an opportunity to showcase your personality. Classic and demure or sultry and sexy? Necklace or no necklace? Sheer or full coverage? The options are endless! Whether you're tall, petite, curvy, or slim we have the perfect neckline that will suit you!

Sweetheart: This style dips into a heart shape at the bust line. It is a great option for the brides who want to be modestly accentuate her cleavage. You can wear it with or without straps, like this floral sweetheart wedding gowns

Strapless: The neckline starts at the bust, exposing the collarbones and shoulders. For example this draped strapless wedding dresses

Halter: This style suits tall brides with broader shoulders by leaving the back and shoulder bare.

V-neck: This style is perfect for full-figured and hourglass shaped brides. You will love this lace V-neck wedding dress with V shape back. This outstanding wedding dress is made with swirl patterned hollow out lace and nude color base. The nude base that would pass a second skin, the lace layer covers add exotic vibe to your wedding. 

Off the shoulder: This style sits below the shoulder and has sleeves that cover part of the upper arms. This off the shoulder mermaid wedding dresses with layered train create romantic vibe blooms follow your every steps.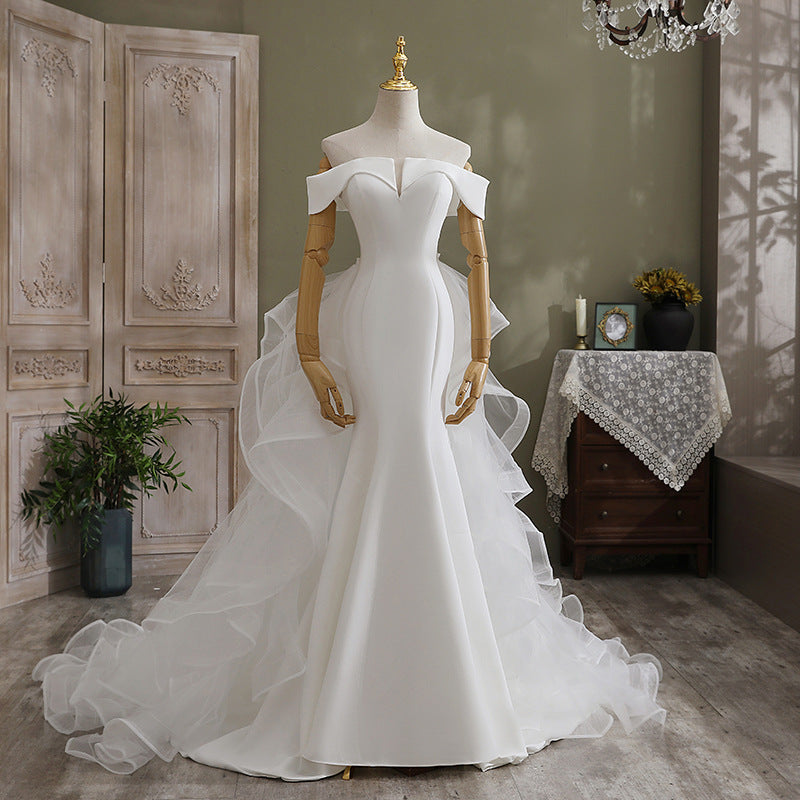 Square: This is a great option for brides with a large buster. It follows the shape of a half square or rectangle. It offers an open neckline, while not plugging too far into the bust line. This chic vintage square neck wedding dresses with big bowknot back is perfect for short girls.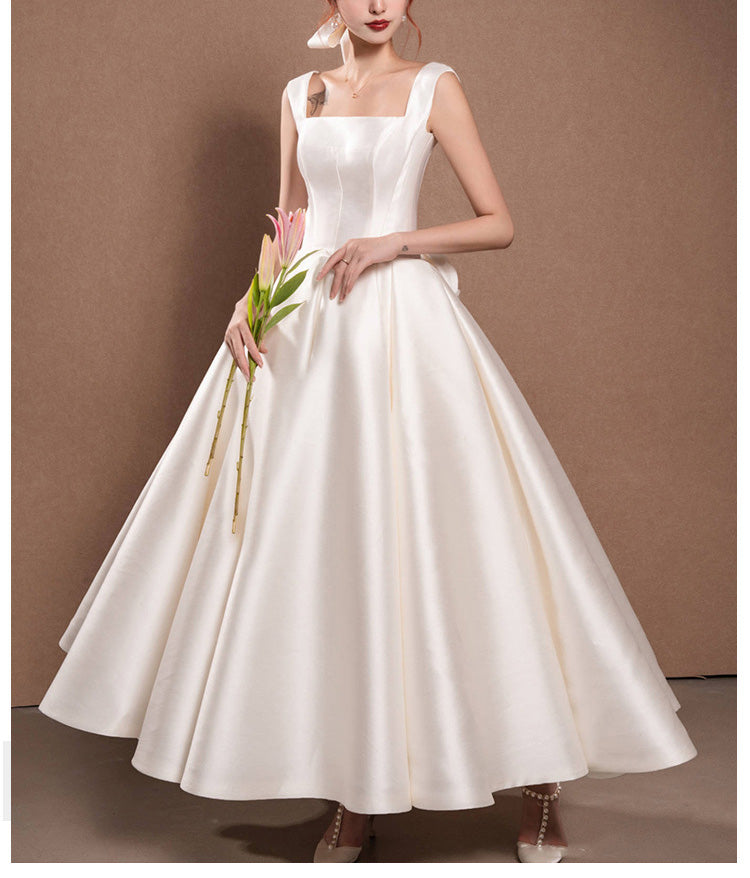 Scoop: Rounded and low, this style suits almost any body style.

Asymmetrical (One shoulder): This style is perfect for a less formal wedding  party and suits brides with delicate collarbones.

Bateau: This style is a great option for women with fuller bust lines who want to minimize attention to the bust.

Jewel: This style is perfect for modest brides and women with smaller bust. Illusion jewel neck appliqued mermaid wedding dresses features see-through top bodice, which decorated with sequins, make it the dress for modern brides.It hug your top body well and flare from thigh, gorgeous and easy to move. Illusion neckline, illusion back with patterned applique to create a romantic look.

Queen Anne: This option creates a chic and romantic shape. This corset royal bridal gowns with long puff sleeves with upper part impresses with its sophistication and subtlely. and emphasizes the silhouette-from a graceful neck to thin wrist.

Portrait: This style resembles a shawl and offers a frame to the face.

So if you're girls with broader shoulder, consider halter neck wedding dresses, or if you're girls with fuller bust lines, wedding dresses with square neckline will be your choice, while jewel neck is brides with small bust.
And scoop is the neckline for almost brides.