A Wedding Gown That Can Be Passed Down
A news from Brides, it said that a family has passed down the same wedding dresses for 72 years. More than 7 decades, eight brides have already worn the gown. They started a "The Bride Book" filled with photos of the brides wearing the meaningful dress.
It is a satin gown with mandarin collar, a lce panel in the front and backs, and small buttons as decortation. It was first bought by Adele Larson who sported the traditional first, it costed her $100.75 at that time, and she certainly got her money's worth.
The satin fabric, the lace details are just really really gorgeous and timeless. It connected each of them because they all value family and traditional so deeply.
It's so amazing and gorgeous, and we can do this too with this gorgeous royal satin wedding gowns: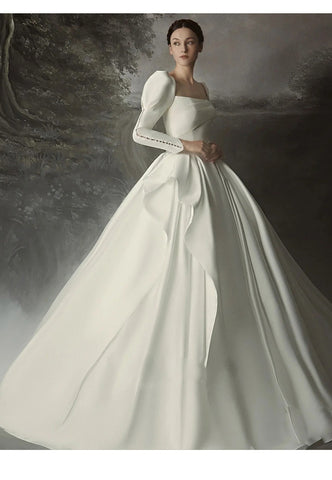 It is a royal style gowns, features long puff sleeves in shape tulip and also cuff in tulip shape, tons of pearls on the sleeves and back zipper sides, create an eternal vibe, retro and classic, never out of fashion. Square neckline, and asymmetric pleated on top fitted bodice, puff skirts with side ruffles, sophistication and subtlely, and emphasizes the silhouette-from a graceful neck to thin wrist.
It is the one you look royal, and feel comfortable while moving and dancing freely on the party. This is the dress in which you will be a queen.
To maintain the condition of the dress throughout the years, take it to a professional cleaner and preserve it carefully.